Thanks to a Kauffman Foundation Entrepreneur Scholarship and Market Visit support from UKTI, I had the great pleasure of attending Defrag 2010 in Colorado last month and the opportunity to savour the vibrant start-up ecosystem in Boulder.
Defrag is organized brilliantly by Eric and Kim Norlin, with a perfect blend of attention to the detail that matters and a confident and playful informalty that cultivates a sense of community and serendipity. The upshot is a stimulating gathering on a human-scale, in which you find yourself marvelling at scintillating speakers in one moment and engaged in an impromtu seminar with them in the next: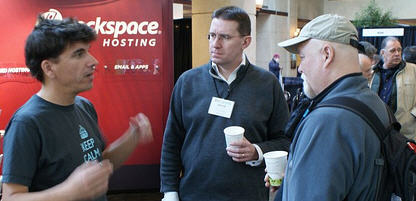 I took the opportunity to map parts of the conference live as well, with the map shown below. The result is more of a dynamic scrapbook than a comprehensive map (with the latter requiring several mappers to cover the parallel sessions and, ideally, collaborative curation from the conference commuity as well). However, the map gives a flavour of the way in which graphs of this kind can be used to connect and distill the conference community, ideas and conversation from one conference to the next.
The graph also includes the slides from the presentations that have been made available online to date.
I travelled to Defrag with high expecations: and those expecations were exceeded by far; so, if you have the chance to attend Defrag 2011, seize the moment…
…and, if you can't wait to sample the fun: Blur and Glue beckon too.