If you have been following the White House's groundbreaking Open Government Initiative over the past few weeks, you'll be aware already that Debategraph has been mapping the proposals emerging from the Open Government Brainstorming sessions on Participation, Transparency and Collaboration.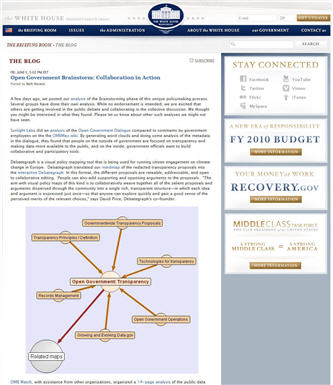 The Open Government Initiative moved into the third, and most significant, Drafting phase today—and we're delighted to note that the White House's Open Government team has entrusted this vital phase to our favourite wiki team at MixedInk (who, if you haven't discovered them yet, offer a truly innovative and powerful approach to the task of collaborative writing, which is ready to be applied in multiple contexts).
The initial Open Government Brainstorming and Discussion phases have been stimulating and generative, but the real collaborative work, the real collaborative responsibility, and the real collaborative opportunity lie in the next phase of synthesis.
So get writing!
…and, to help you on your way, here's the combined Debategraph of the redacted proposals from the three brainstorming sessions:

As a follow up to the Public Services 2.0 workshop in Brussels last month, and in keeping with the collaborative ethos and intention of the event, Richard Stirling, one of the Cabinet Office secretaries to the Power of Information Taskforce, asked me to receate the Taskforce's landmark report in Debategraph.
The initial map (shown in the Debategraph Explorer view above) foregrounds the report's recommendations—although the full text of the report is also included in the expanded text of the relevant elements on the map (which you can view by clicking on the Green + button above).
Once in this format, anyone can comment on, support or oppose, and rate the individual recommendations—and also begin to increase the granularity of the analysis by, for example, breaking out the arguments presented in the report in support of the recommendations by the Taskforce.
This Explorer view of the report (above) can also be shared and embedded on blogs and other websites using the following code:
<iframe src='http://debategraph.org/flash/fv.aspx?r=14255&d=2&i=1′ frameborder='0′ width='450′ height='600′></iframe>
As ever feedback about the work-in-progress, either directly on the map, or in the comments below, will be very welcome—and, in the meantime, for a quick insight into the way that the ideas articulated in the Power of Information Taskforce's report are percolating in the US, check out Ellen Miller's Sunlight Foundation blog.