In the wonderful way of the web, a generous invitation from Seb Schmoller to guest blog an overview post about Debategraph, led to encouraging and deeply insightful feedback from David Weinberger about Debategraph.
In a subsequent post, David called for transparent debate about Barack Obama's choice of vice-presidential running mate, noting that: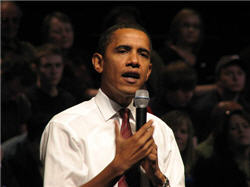 "Barack Obama has promised to tear down the stone wall and dense bushes with which the current administration has barricaded the White House. Good. Democracy without transparency is at best assumed.
And, Obama has promised to take advantage of our new connective technology — the Internets and all its associated tubeware — to enable a level of citizen participation undreamed of since our population outgrew the local town hall.
So, how about if the campaign starts now by opening up the vice presidential selection process?"
…so here's a debate map featuring some of the mooted VP candidates and the arguments for and against their candidacy. Anyone can add new candidates and new arguments. Anyone can rate the candidates and the arguments for and against. And anyone can embed this (automatically updating) map of the debate on their blog; so that changes made anywhere will be displayed everywhere.
Which is about as transparent as it gets.
Help us share the debate as widely as possible, and let's find out what the collective and connective wisdom of the web makes of Obama's potential running mates…