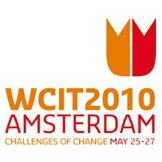 The World Congress on Information Technology 2010, which began in Amsterdam earlier today, brings together over 2,000 leading figures from industry, government, and academia from over 90 countries to address the global challenges of economic, environmental and social development.
The speakers include: Paul Otellini(Intel), Stephen Elop (Microsoft), Pierre Hessler (Capgemini) , Michael Fries (Liberty Global), Neelie Kroes (Commissioner Digital Agenda European Commission), Martin Lees (Secretary-General Club of Rome), Francisco Ros Perán (Secretary of State for Telecommunications, Spain),  Tony Clement (Canadian Minister of Industry), Datuk Seri Ongkili (Federal Minister of Science, Technology and Innovation, Malaysia), Kumar Parakala (KPMG), Peter Sondergaard (Gartner), Virginia Rometty (IBM), Sachin Pilot (Ministry of Communications and Technology, India), Maria van der Hoeven (Minister of Economic Affairs, Netherlands), Sylvia Roelofs (ICT-Office), and William Kennard (US Ambassador to the European Union).
The conference is building towards the Amsterdam Declaration, which calls on all participants to pursue ambitious goals for the use of information technology in addressing economic growth, greenhouse gasses, the quality of life, and ensuring the global impact of these benefits.
All organisations supporting the Declaration of Amsterdam are asked undertake at least one major project in the spirit of the Declaration, and to report back on its progress and achievements at WCIT 2012  in Montreal.
As part of this process, Debategraph is working with the conference to map the Amsterdam projects and their relationships to the overarching goals – with the work-in-progress covering around 60 projects from around the world shown below:
You can follow the proceedings of the conference across the next three days live here and on Twitter via the hashtag: #WCIT2010.